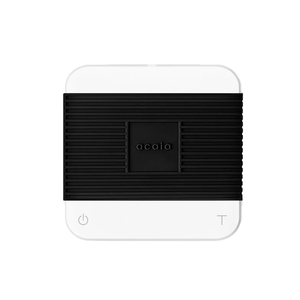 Acaia Scales are arguably the best in the market. Elevate your home brewing game with these incredibly accurate and dependable devices. 
Features: 
The Real-Time Flow Indicator is a visual tool that helps you control your pouring and elevates your brew skills.

Faster and more responsive with new weight technology so it stabilizes faster and more accurately.

A better display technology that can be adjusted for high and low light environments that is also optimized for sunlight readability.

Built-in Stopwatch

-You can track the blooming, pouring, and infusion time without a fuss, with the two-way timer that syncs with your mobile phone.
Brewing modes to fit your brew style: dual display, auto-start timer mode, and beverage mode.

Automated Auto-off Customization

-The Acaia will not shut down during coffee brewing, the auto-off feature is also customizable in the mobile app.

Rechargeable USB Power Supply

-A greener alternative power source, battery lasts 30-40 hrs.
Built to last with industrial standards: handcrafted, checked for quality, and calibrated before it's sent out to you.
When used with the app you can enjoy recipe sharing, coffee brewing data, monitor your coffee brewing process, and even sync multiple scales making it easier to duplicate a recipe.
___