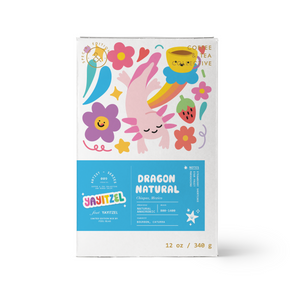 Artist Series 009 - Itzel Islas, Dragon Natural
strawberry shortcake, star fruit, maraschino cherry
Origin: Chiapas, Mexico
Altitude: 800-1400 masl
Variety: Bourbon, Caturra
Process: Natural Anaerobic
At the edge of the Sierra Madre mountain range in Chiapas, Mexico lies second generation coffee producer Victor Ruiz's farm. For the past 3 years, he has been refining the Dragon Anaerobic process, where ripe cherries are fermented in a pressurized, oxygen-free environment. The result is a coffee with rich, winey, fruity flavors that will make you go back for another sip. Cheers!
Limited Edition Artist Series box designed by Itzel Islas
Instagram: @yayitzel | Website: https://www.yaylandia.com
We roast on Wednesday/Thursday. Your order will ship or will be available for local pick up on Friday.  
Imported by InterAmerican Coffee