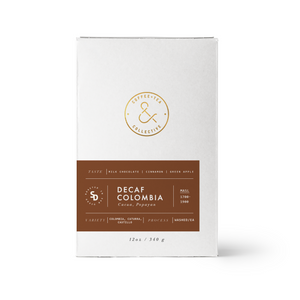 Decaf Colombia
milk chocolate, cinnamon, green apple
Origin: Colombia, Meseta de Popayan 
Altitude: 1700 - 1900 masl
Variety: Colombia, Caturra, Castillo
Process: EA
Sheltered by the Andes Mountain range, Meseta de Popayan has a special climate and local ecosystem that helps supply rich nutrients and amazing flavor characteristics to the coffee from this region. The result for this coffee is a balanced cup profile rich in sweetness, delicate fruit and herbal notes.
Ethyl Acetate is an organic compound that is derived from the fermentation of sugar cane!
For this decaffeination process coffee is steamed to open up its pores, then the coffee is placed in a solution of EA and water, which acts as a solvent to remove the caffeine. This process takes about about 8 hours and with it caffeine leaves the beans. Next, the beans are removed from the solution and steamed again, which removes the traces of EA in the beans. The coffee is then dried to reach the same moisture content that it had prior to the process.
Imported by Red Fox Coffee Merchants
We roast on Wednesday/Thursday. Your order will ship or will be available for local pick up on Friday. 
This coffee is whole bean and is packaged in 12oz, 2lb, and 5lb bags.