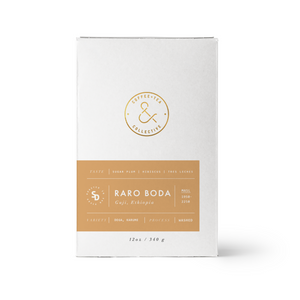 Raro Boda
Sugar Plum, Hibiscus, Tres Leches
Origin: Uraga, Guji, Ethiopia
Altitude: 1950-2250 masl
Variety: Kurume & Dega 
Process: Washed
The Raro Boda washing station is located within the Uraga municipality of Guji, Ethiopia and is owned by Negusse Debela. Smallholder farmers deliver coffee there from both naturally growing coffee trees in forest areas and coffee trees tended to near farmer's residences. This year's Raro lot showcases why we love coffee from Uraga so much. This coffee is ripe with notes of sugar plum, hibiscus, and creamy rich tres leches.
Imported by Collaborative Coffee Source
We roast on Wednesday/Thursday. Your order will ship or will be available for local pick up on Friday. 
This coffee is whole bean and is packaged in 12oz, 2lb, and 5lb bags.